Engagement - Establishing Relationships, Rapport, and Respect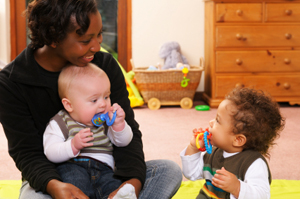 Once a referral is received and the ECE provider indicates the family is open to consultation, the consultant should work with staff to consider the best way for the consultant to be introduced to and meet with the family as well as who should be included. How consultants enter a relationship with a family can have lasting effects on the family's level of participation and understanding of ECMHC.
To support a positive beginning to this new relationship, the consultant may follow the tips on engaging families from Tutorial 5: Partnering with Families in Early Childhood Mental Health Consultation. These common steps in the initial phase of consultation must be tailored with cultural and linguistic considerations, such as those listed below:
Invite parents into a partnership, conveying respect for them as the expert on their child and respect for their culture-based perspective on the child, family, and child care situation.
Clarify the purpose of consultation in terms that can be understood in the context of the family's culture, language, and experience in the early care and education environment.
Explain confidentiality, describing how interpreters may be used, inquiring about whom in their family should be included, and clarifying their power to decide not to participate in consultation services.
Use skilled or reflective dialogue to assure understanding the family's culture-based point of view, feelings, thoughts, and observations.
Show interest in supporting their family culture and perspective, and demonstrate willingness to learn how to work together, focusing on their values and what is important to them and their child.
Explore the family's attitude toward seeking help, perceptions of consultation, and their understanding of their role in the process. Since communication is essential, consultants must adjust their own communication style, both verbal and non-verbal, to that of the family; as well as use interpreters when necessary. Pacing the interaction, waiting patiently in silence, and making adaptations to match the family's communication style are important skills in this initial meeting.
Right from the start of the relationship, actively working to learn about and understand a family's culture indicates that the family's perspectives are acknowledged, valued, and understood. It also provides important information that can influence the process of forming partnerships and a family's active participation in the consultation process.